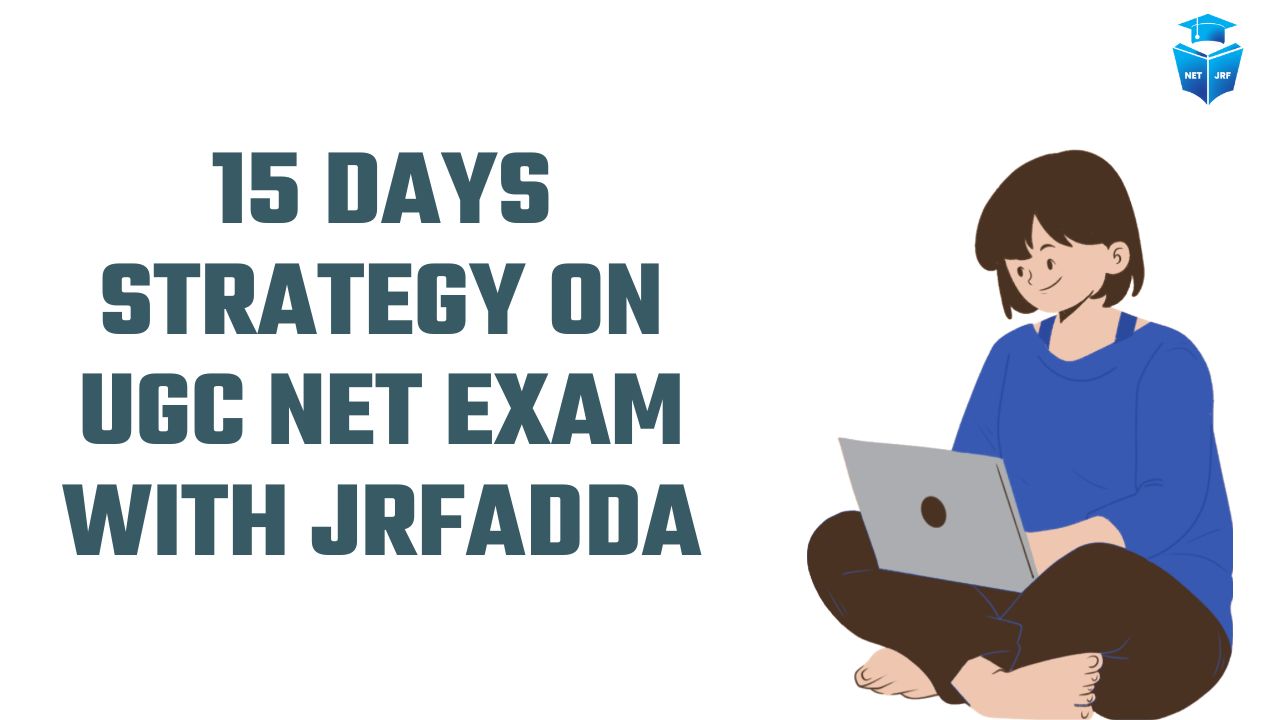 Boost Your Preparation for UGC NET Exam in Just 15 Days:- Preparing for the UGC NET Exam can be a daunting task, especially if you have limited time. However, with the right strategy and focused effort, you can maximize your chances of success. In this article, we will discuss a 15-day strategy that can help you ace the UGC NET Exam with the help of JRFAdda. JRFAdda is a comprehensive online platform that offers study materials, practice tests, and expert guidance to help students excel in the UGC NET Exam.
15 Days Strategy on UGC NET Exam with

JRFAdda
Are you ready to embark on a 15-day journey to UGC NET success? Follow this detailed strategy to make the most of your limited time and enhance your preparation:
1. Day 1: Understand the Exam Pattern and Syllabus
Before diving into your preparation, it's essential to familiarize yourself with the UGC NET exam pattern and syllabus. Visit UGC NET Official Website to get the latest information and download the syllabus. Knowing the structure of the exam will help you plan your studies effectively.
2. Day 2: Create a Study Schedule
Time management is crucial during the 15-day preparation period. Create a study schedule that allocates sufficient time for each subject and topic. Set achievable goals for each day and ensure that you cover all the essential topics within the given timeframe.
3. Day 3-5: Focus on Core Subjects
Identify the core subjects of your UGC NET exam and allocate more time to them during these three days. Dive deep into the concepts, revise important theories, and solve previous year question papers. JRFAdda provides comprehensive study materials and practice tests to help you strengthen your understanding of these subjects.
4. Day 6-7: Brush up on General Awareness
General Awareness is a crucial section in the UGC NET exam. Dedicate two days to revising current affairs, national and international events, and developments in your field of study. JRFAdda offers daily current affairs updates and topic-wise study materials to help you stay updated.
5. Day 8-10: Practice Mock Tests and Sample Papers
Mock tests and sample papers are invaluable resources for exam preparation. Take advantage of JRFAdda extensive collection of mock tests and sample papers to assess your knowledge and identify areas that need improvement. Practice solving these papers within the stipulated time to enhance your time management skills.
6. Day 11-12: Revise Important Formulas and Concepts
During these two days, revise all the essential formulas, theorems, and concepts in your chosen subjects. Create flashcards or summary notes to make revision easier and more efficient. Focus on strengthening your understanding of these key elements to boost your confidence in the exam.
7. Day 13: Analyze and Learn from Mistakes
Review the mock tests and sample papers you have attempted so far. Identify the areas where you made mistakes and work on improving your performance. JRFAdda provides detailed performance analysis, which can help you pinpoint your weaknesses and address them effectively.
8. Day 14: Stay Calm and Relax
It's crucial to give yourself some time to relax and rejuvenate before the exam day. Engage in activities that help you de-stress, such as meditation, light exercise, or hobbies. Avoid overloading your mind with new information during this day.
9. Day 15: Exam Day Strategy
On the final day, wake up early, have a nutritious breakfast, and revise important formulas and concepts. Stay positive and confident. Reach the exam center well in advance to avoid any last-minute stress. Remember to carry all the necessary documents and stationery items.
FAQs about UGC NET Exam Preparation with

JRFAdda
Q: Can I rely solely on JRFadda for my UGC NET preparation?

A: JRFAdda is a comprehensive platform that offers study materials, practice tests, and expert guidance. However, it's recommended to supplement your preparation with additional resources like books, reference materials, and previous year question papers.

Q: Are the mock tests on

JRFAdda

similar to the actual UGC NET exam?

A: JRFAdda mock tests are designed to simulate the actual UGC NET exam environment. The question pattern, difficulty level, and time constraints are carefully crafted to provide an authentic exam experience.

Q: How can

JRFadda

help me with time management during the exam?

A: JRFAdda mock tests and sample papers are timed, allowing you to practice solving questions within the given time frame. Regularly attempting these tests will help you improve your speed and accuracy, thereby enhancing your time management skills.

Q: Can I access

JRFAdda

study materials offline?

A: JRFAdda primarily operates as an online platform. However, you can download study materials, practice tests, and other resources for offline access using JRFAdda mobile app.

Q: Is

JRFAdda

suitable for beginners with no prior UGC NET preparation?

A: Yes, JRFAdda caters to students at all levels of UGC NET preparation. The platform offers study materials that cover the basics and gradually progress to advanced topics. The comprehensive approach ensures that beginners can build a strong foundation for their preparation.

Q: How often are the study materials and mock tests updated on

JRFAdda

?

A: JRFAdda team of subject experts and educators regularly updates the study materials and mock tests to align with the latest UGC NET syllabus and exam pattern. This ensures that you have access to the most relevant and up-to-date content.
Conclusion
With the 15-day strategy on UGC NET Exam with JRFAdda, you can optimize your preparation and increase your chances of success. Remember to stay focused, follow the study schedule diligently, and make the most of JRFAdda comprehensive resources. Good luck with your UGC NET Exam journey!