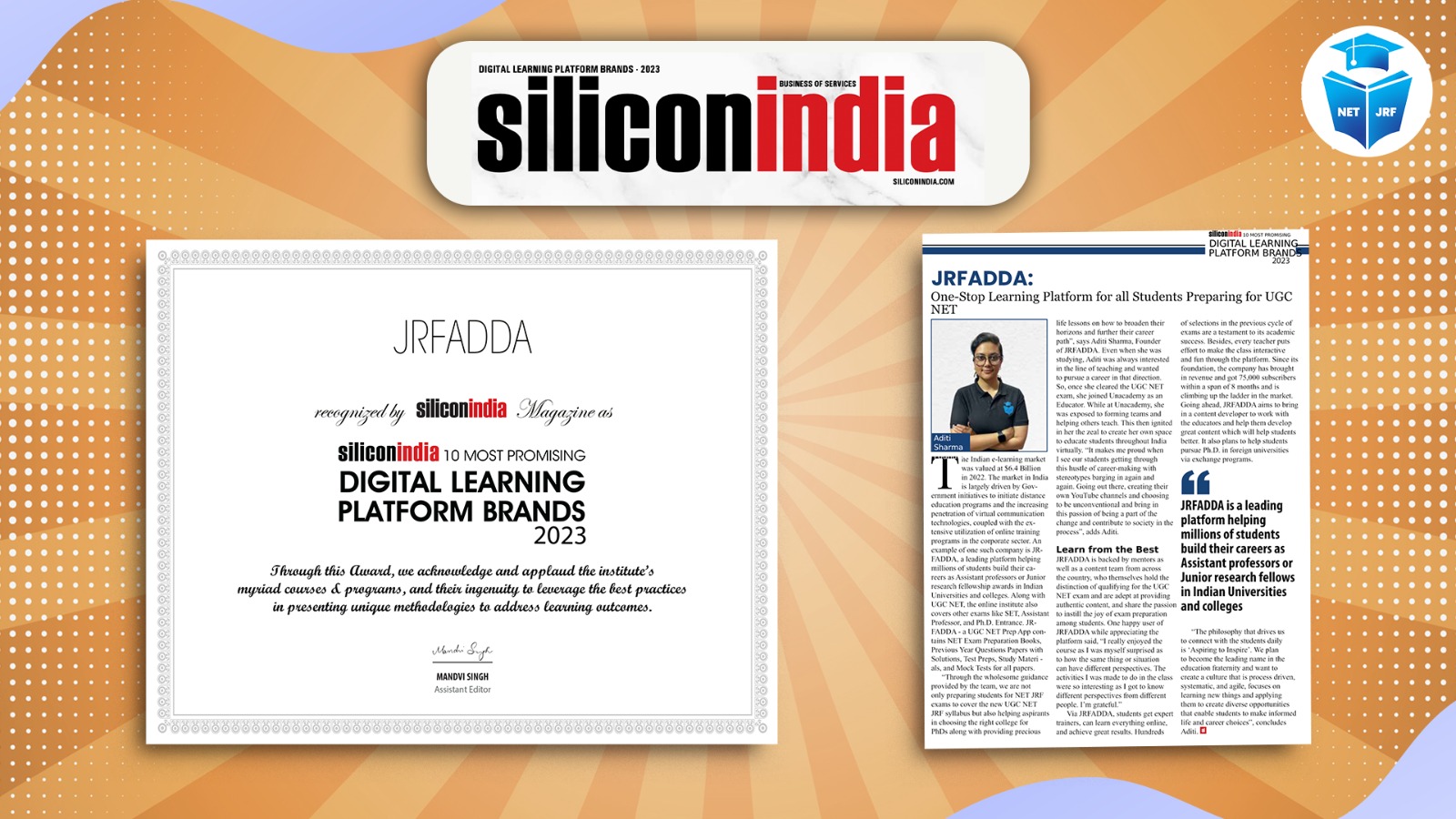 JRFAdda: One Stop Learning Platform for all Students Preparing for UGC NET Exam
The Indian e-learning market was valued at US$ 6.4 Billion in 2022. The market in India is largely driven by Government initiatives to initiate distance education programs and the increasing penetration of virtual communication technologies, coupled with the extensive utilization of online training programs in the corporate sector. An example of one such company is JRFAdda, a leading platform helping millions of students build their careers as Assistant professors or Junior research fellowship awards in Indian Universities and colleges. Along with UGC NET, the online institute also covers other exams like SET, Assistant Professor, Ph.D Entrance. JRFAdda - an UGC NET Prep App contains NET Exam Preparation Books, Previous Year Questions Papers with Solutions, Test Preps, Study Materials, and Mock Tests for all papers.
"Through the wholesome guidance provided by the team, we are not only preparing students for NET JRF exams to cover the new UGC NET JRF syllabus but also helping aspirants in choosing the right college for PhDs along with providing precious life lessons on how to broaden their horizons and further their career path", says Aditi Sharma, Founder of JRFADDA. Even when she was studying, Aditi was always interested in the line of teaching and wanted to pursue a career in that direction. So, once she cleared the UGC NET exam, she joined Unacademy as an Educator. While at Unacademy, she was exposed to forming teams and helping others teach. This then, ignited in her the zeal to create her own space to educate students throughout India virtually and help them achieve their goals. "It makes me so proud when I see our students getting through this hustle of career making with stereotypes barging in again and again. Going out there, creating their own YouTube channels and choosing to be unconventional and bring in this passion of being a part of change and contribute to society in the process," adds Aditi.
Learn from the Best
JRFAdda is backed by mentors as well as content team from across the country,who themselves hold the distinction of qualifying the UGC NET Exam and are adept at providing authentic content and share the passion who can instill the joy of exam preparation among students. One happy user of JRFAdda while appreciating the platform said, "I really enjoyed the course as I was myself surprised as to how the same thing or situation can have different perspectives. The activities I was made to do in the class were so interesting as I got to know different perspectives from different people. I'm grateful."
Via JRFAdda, students get expert trainers, can learn everything online and great results in the previous cycle of exams with hundreds of selections is a testament to their academic success. Besides, every teacher puts effort to make the class interactive and fun through the platform. Since the foundation, the company has brought in revenue and got 75,000 subscribers within a span of 8 months and is climbing up the ladder in the market. Going ahead, JRFAdda aims to help students to pursue PhD in foreign universities via exchange programs.
"Our philosophy that drives us to connect with the students daily is 'Aspiring to Inspire'. We plan to become the leading name in the education fraternity and want to create a culture that is process driven, systematic and agile focus in gone learning new things and to apply these ahead to create various diverse opportunities to allow everyone to make informed life and career choices.", concludes Aditi.
Quote: "JRFADDA is a leading platform helping millions of students build their careers as Assistant professors or Junior research fellowship awards in Indian Universities and colleges."