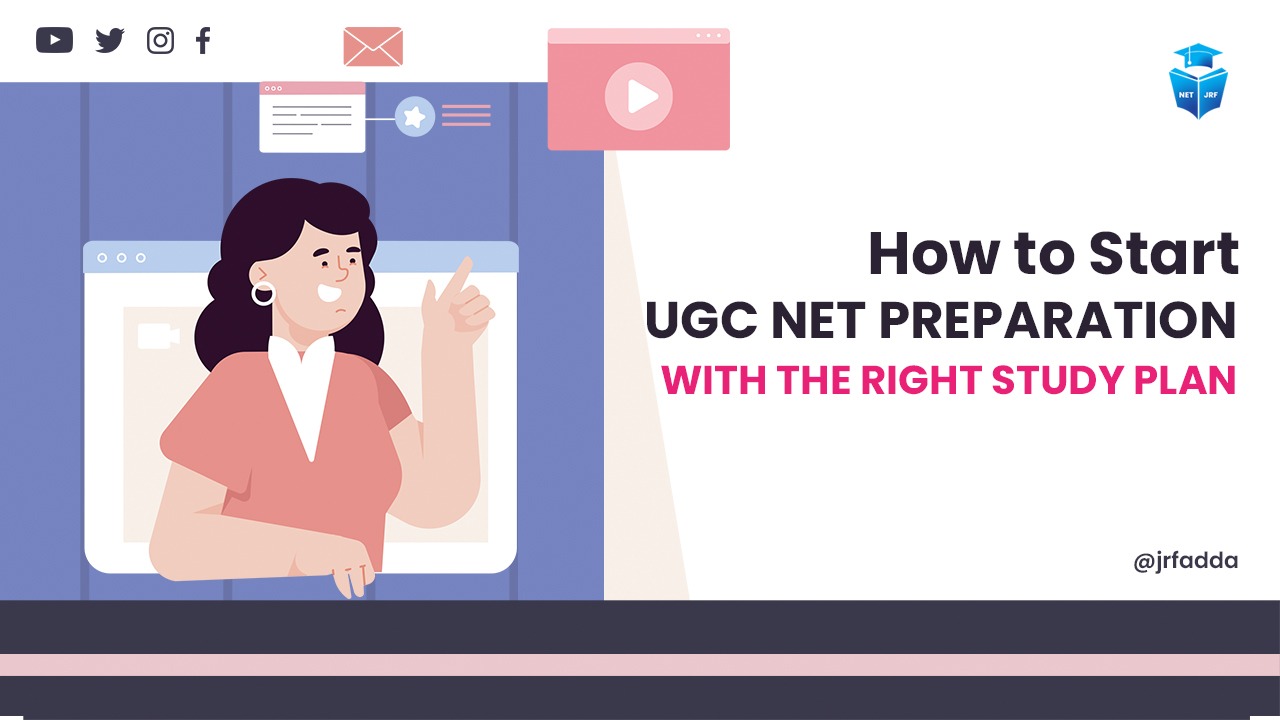 UGC NET Overview
The National Testing Agency (NTA) has been entrusted by the University Grants Commission (UGC) with the task of conducting UGC-NET, which is a Test to determine the eligibility of Indian nationals for 'Assistant Professor' as well as 'Junior Research Fellowship and Assistant Professor' in Indian Universities and Colleges.
The UGC-NET is being conducted by the National Testing Agency (NTA) in Computer Based Test (CBT) mode w.e.f. December 2018 onwards.
Awarding of Junior Research Fellowship (JRF) and/ or Eligibility for Assistant Professorship depends on the aggregate performance of the candidate in Paper-I and Paper-II of UGC-NET. The candidates qualifying only for Assistant Professorship are not eligible to be considered for the award of JRF. Candidates who qualify the eligibility test for Assistant Professorship are governed by the rules and regulations of the concerned Universities/Colleges/State Governments, as the case may be for recruitment of Assistant Professor.
UGC-NET is conducted twice every year (June & December). Due to the outbreak of COVID- 19 pandemic in 2020 & 2021, the cycles of UGC NET were merged and conducted together.
In order to regularize the UGC-NET examination cycle, the National Testing Agency (NTA), with the concurrence of UGC is conducting UGC NET December 2022 in the month of February & March 2023 in 83 subjects, at selected cities across the country.
Going a step further and to regularise the exam cycle, the NTA has released exam dates for the later half of the year and the exam will be held from 13th to 22nd June 2023.
As NTA gears up to conduct the exam in a proper manner, students also need to prepare themselves for the exam in a dedicated manner. A question that boggles the mind of candidates regularly is the process of normalization that will be followed by the NTA and whether their score will be affected badly after the application of the said procedure. We will try and allay all your fears related to the normalization procedure.
Our JRF team is the best in the business and almost all of them have already been selected as JRF. So, in your preparation journey we will be the best guide for you and our experienced team will prove to be a vital cog in your preparation journey.
UGC NET Preparation Strategy
In order start preparation with the right strategy, firstly get yourself acquainted with the syllabus and chalk out a strategy to divide time as per your strengths and weaknesses. Before even picking up a book, it is prudent to go through the syllabus multiple times so that you get to know what to study and what to skip.
Don't mix the topics that are not a part of the syllabus

Start with the topic that you can complete faster.

Book mark the topics which you have completed and then proceed to the next one.
Preparing UGC NET Notes
Notes help us condense down a topic so that we can revise things in a short period of time and focus on difficult topics as well.

Notes help us recall short tricks and important topics multiple times and this aids in boosting speed while solving questions.

Make sure that the notes which you have prepared are clear and well written so that at the time of revising them, you don't get confused later.
Solve UGC NET Previous Year Papers
Previous year paper is the gold standard from which a student can gauge the difficulty level and pattern of the exam as well as know which topics carry more weightage as compared to the others.
Since UGC NET is an online exam, the candidates must start practicing as many mock tests as possible. Along with solving previous years' UGC NET question papers, mock tests also play an important role in helping the candidates. Some of the benefits of giving more mock tests include:
It will offer the real look and feel of the exam

The time management skill of candidates will improve greatly

The candidates will be able to judge their weaker areas and can start preparing accordingly

The candidates will have a more accurate understanding of the important topics that can be asked in the exam
Time Management
Time is of the utmost importance as the exam is just a few months away and one who plans better will be able to get an edge over the others. Plan your study hours according to your strengths and weaknesses by devoting more time to those topics which constitute a major chunk of the exam syllabus but are a weak point for you.
How to Manage Time Before Exams?
Remember quality rather than quantity of study matters. Do not bother to study all the time rather try and concentrate in a limited amount of time so that whatever you study in that time becomes a part of you for a long time.

Schedule your daily routine and allocate separate time to every section of the syllabus so that in the end you don't get confused.

Try to spend at least 6-8 hours daily on your studies. Also, take time to manage the daily revisions of everything you have read the whole day long.

Don't forget to get some leisure time and follow a hobby. Do not burn yourself out.
Time Management During Exams
Time management is very important while sitting in the examination Centre.

Try to attempt the paper multiple times(at least 3), going from the easiest questions to the hardest and do not get stuck with the hard questions in the first attempt.

Since the time is limited to solving questions so answer those questions first that are familiar to you, rather than wasting your time on less familiar questions.

In case you are facing any kind of problem in solving the question, mark them and solve them later.

Try to save some time so that you can cross-check all the answers at the end and to attempt the hard questions.
Hours to Spend Per Day for UGC NET Preparation
The number of hours which the candidates must spend for UGC NET Preparation each day totally depends on the daily routine of the individuals. The candidates are advised to spend at least 6 -8 hours per day for preparations, especially when the exam is a few months away.
Boost your Confidence Level
Though feeling nervous before exams is quite normal among the candidates but this anxiety can be reduced by preparing for the exam in a detailed way. If you know that you have revised everything and all the tips and formulas are on your finger-tips, obviously it will help in boosting your confidence level greatly.
Stay Updated
You need to stay updated with the current affairs and recent news which can come in UGC NET and most importantly candidates must have detailed knowledge about their concerned UGC NET Subject.
Don't be a Bookworm
In case you are a bookworm then you will not be able to achieve a good score in UGC NET Exam. You must take short breaks in between your studies and get involved with your routine activities as well while preparing for the exam. Also, don't isolate yourself from your family and friends otherwise you will feel more stressed. Stay relaxed and plan some other activities as well while continuing your studies to stay stress-free.
As always, if you have any questions or feedback, we'd love to hear from you. You can reach us on support jrfadda@gmail.com
or
Call support - +91 8955296472 ,+91 6375278950 ,+91 6350183347
Download JRFAdda App for Updated Videos, Free Topic-Wise Quizzes, and Free Mini Mocks
Download Free Study Material Here
Let's connect with JRFAdda
🚀 Download the JRFAdda App here
🚀 YouTube Channels : JRFAdda NET SET Asst Prof & All Teaching Exams