UGC NET December 2023 Exam Dates Announced:- The wait is finally over, and it's time for some exciting news for all UGC NET aspirants. The NTA (National Testing Agency) has officially released the UGC NET December 2023 exam dates. Candidates can check the dates below;
UGC NET December 2023 Exam Dates:
Start Date: 6th December 2023

End Date: 22nd December 2023
Yes, you read it right! UGC NET December 2023 is scheduled to be conducted from 6th December to 22nd December 2023. It's time to mark these dates on your calendar with enthusiasm and a sense of purpose.
The NTA has tweeted this exciting update on 19 sept 23 at 5:04 pm, confirming the dates for the December cycle 2023. This announcement is not just a mere notification; it's a signal for all aspirants to gear up their preparation and get ready to shine in the upcoming examination.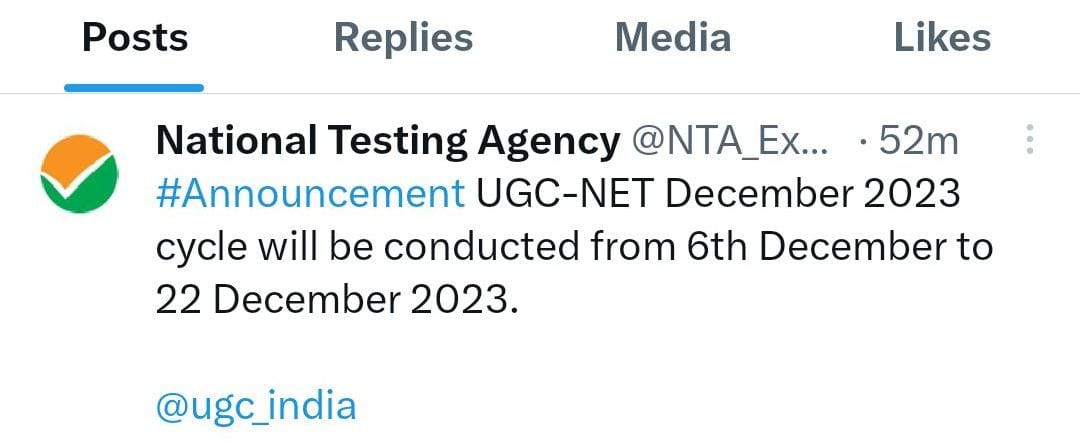 The NTA's tweet is a call to action. It signals the beginning of the final leg of preparation for UGC NET December Exam 2023. Aspirants can now approach their studies with renewed determination and confidence, knowing that they have a definite goal in sight. It's an exciting and transformative moment in their journey toward academic and research excellence.
UGC NET Aspirants :-
As the saying goes, "Success favours the prepared mind," and there couldn't be a truer statement for UGC NET Aspirants. With the official exam dates in hand, it's high time to elevate your preparation to the next level. Whether you're aiming for the Junior Research Fellowship (JRF) or the Assistant Professorship, thorough preparation is the key to success.
Here are a few tips to make the most of this exciting news:
Revise Your Study Plan:

Take a moment to revisit your study plan and make any necessary adjustments to ensure that you cover all the essential topics and subjects.

Practice, Practice, Practice:

Solve previous years' question papers and take mock tests to familiarize yourself with the exam pattern and improve your time management skills.

Stay Informed:

Keep an eye on official announcements and updates from NTA to ensure you have the most accurate information regarding the exam.

Stay Healthy:

Remember to take care of your physical and mental well-being. A healthy body and a focused mind are essential for success.
The UGC NET Exam is not just a test; it's an opportunity to embark on a fulfilling academic and research career. So, seize this moment, channel your excitement into your studies, and give it your all. With dedication and hard work, you're well on your way to achieving your goals.
Mark those dates, prepare diligently, and let the countdown to UGC NET December Exam 2023 begin. The journey to success starts now!